Professional Buyer's Agent in Copenhagen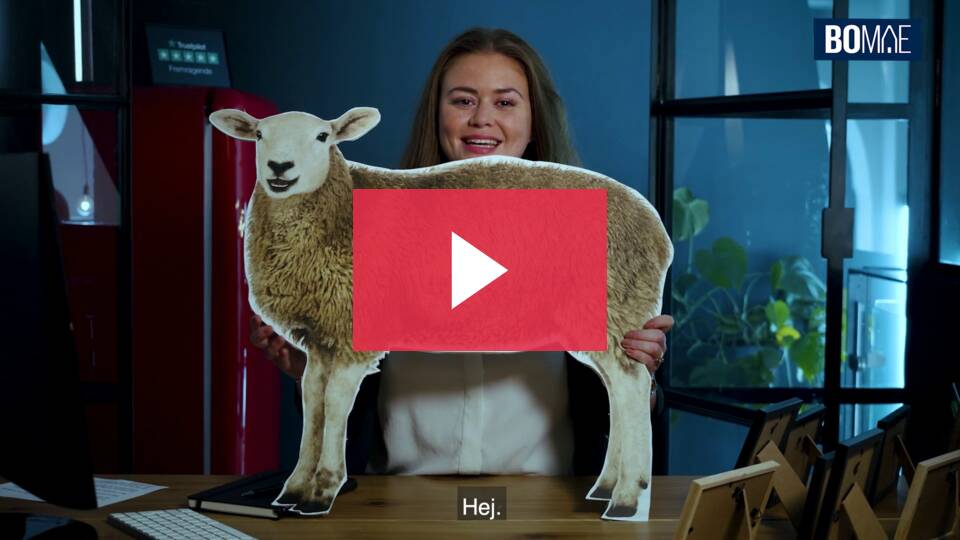 Bomae's buyer's agents guide and support home buyers throughout the entire purchasing process.
We save you time
We save you thousands on your new home
We have a 4.8/5 Trustscore on Trustpilot
We are 100 % on your side
We negotiate price and terms with the bank on your behalf
Our price reductions are on average 30% higher than the market
Bomae is your buyer's agent from start to finish
1. Financing the dream
We obtain financing offers that suit your finances
2. Finding the perfect home
Together we find and evaluate properties that match your dreams and criteria.
3. Negotiating the best deal
We are experts in negotiating contracts and prices, getting you the best possible terms.
4. Completing the purchase
We take care of all the legal details so you can move into your new home without stress.
Marco Asbjerg | Buying agent
Get in touch for a non-binding assessment
Every home buying situation is different. That is why we always assess cases individually before making an offer. Call Marco Asbjerg directly on +45 72 600 400
.
Our results speak for themselves:
14,53%
is the highest price reduction we have negotiated to date. Our reductions are on average 30% higher than the market.
All home buying help gathered in one place
Buyer's broker
You have found your dream home, but questions like "am I paying the right price?" and "are there any hidden damages?" arise. At Bomae, our expert team will help you find answers and reassurance. We evaluate the value of the home and negotiate price and terms with the seller.
In doing so, we ensure you get the best price and conditions.
Financial advice
Finding the right financing is also high priority when buying a home. That is why we provide financial advice as well. Getting a mortgage can be complicated and stressful, but our home buyers agents are highly experienced in negotiating with banks to secure the ideal offer.
We are registered with the Danish Financial Supervisory Authority, which is the authority that monitors companies in the financial sector.
Legal advice
Are you about to sign the purchase agreement for your new home? Our legal adviser will review the documents and give you a full overview of the content. If there are contingencies in the purchase agreement, we will give you competent legal advice on how best to proceed.
This way, you can feel completely safe when signing it.
How can we help?
Get in touch for a chat about how we can help you buy and finance your new home.
Or call us on +45 72 600 400, Monday to Sunday 8:00-20:00
What our customers say about us
Home purchase on Zealand
"Bomae has been 'our man' throughout the entire process. They did their utmost to put us at ease and were very professional in explaining everything."
Who: Nina and Tim
Where: Køge
Price reduction: 117.000 DKK
Savings on financing: 314.150 DKK *over a period of more than six years.
Buyer's agent or buyer's broker?
Buyer's agent
At Bomae, our house buying agent service is a comprehensive and holistic advice service that covers the three phases of home buying:
The home search and purchase, the financial advice, and the legal review of purchase documents.
There are many that offer guidance in connection with home buying, e.g., lawyers, banks, financial advisers, and real estate agents. However, please note that these services are usually only helpful in certain purchase phases – and not the entire process. E.g., only buyer's agents that are registered with the Danish Financial Supervisory Authority may offer financial advice.
Buyer's broker
As such, buyer's brokerage is a part of our comprehensive buyer's agent service. Our buyer's broker takes care of everything related to the home purchase itself, in addition to thoroughly reviewing the market. As a minimum, our buyer's brokerage covers the following:
Dialogue about wishes and needs
Dialogue about potential homes
Evaluation of relevant properties
Help clarifying prospects
Estimation of property's price level
Strategy and planning for the negotiation
Dialogue with the real estate agent
Review of purchase agreement
FAQ about buyer's agents
❓What is a real estate buyers agent?
A buyer's agent guides and supports you throughout the purchasing process and can save you money and headaches. They can, among other things, help with negotiating the price and terms for your new home.
A buyer's agent represents only the buyer in a real estate deal. At Bomae, we have buyer's agents with experience in the real estate and legal industry as well as the financial sector, ensuring our team can provide you with the best support possible.
🏷️ How much does a property buyers agent cost?
The fee can vary greatly depending on which buyer's agent you choose and what services they offer. In many cases, the buyer's agent will secure a price reduction greater than their fee.
At Bomae, we have gathered all the home buying help you need under one roof. Get in touch with us for a non-binding dialogue about how we can help you buy property in Denmark.
💲 How much money can I save?
The savings can be huge if you choose a skilled buyer's agent. Therefore, you should always research what different buyer's agents offer. 14.54 percent is the highest price reduction we has secured for a client.
Our reductions are on average 30% higher than the market. You are always welcome to contact us for a custom solution or if you have questions about home buying.
⌛Will a buyer's agent save me time?
Buyer's agents can save you time, effort, and money. There are many important aspects to take into consideration when buying a home. As such, having a buyer's agent by your side is always a good idea. The team at Bomae is very experienced and knows the industry in and out. This is your guarantee for smooth purchasing process, giving you space to focus your energy on what matters most to you.
🏠 What is buyer agent responsibilities?
A buyer agent is responsible for helping buyers find the right property, help them finance their purchase, negotiate the sales contract, and finish the sale in a way that is as favourable for the buyer as possible.
❔Is it worth using a buyer's agent?
On average, our price reductions are 30% better than the market. Furthermore, we help you find the best financing offers and save a lot of time on your house search.
All of this is the value that you buy in to when investing in a buyer agent.
💡What is the difference between a buyer's agent and a realtor?
The biggest difference between a buyer's agent and a realtor is that a buyer's agent is "the buyer's man", and a realtor is "the seller's man".
💲What is buyer's agency commission?
Buyer's agency commission is when a buyer's agency gets paid through commission when the sale of the buyer's new property goes through. At Bomae, we earn money when our clients save money.